Rotterdam Open Highlights: WATCH Gael Monfils and Stan Wawrinka
Gael Monfils lifts the trophy at the 2019 Rotterdam Open. Here is a look at how he did it as he took on Stan Wawrinka.
The Rotterdam Open final in men's singles this year featured two of the sport's greatest stars. French tennis veteran Gael Monfils came face to face with Swiss legend Stan Wawrinka. Both players have incredibly accomplished resumes to their names and were able to upset several seeded players en route to the final.
Ultimately, it was Monfils who emerged the champion, claiming his first ATP singles title on the 2019 ATP Tour. WATCH the entire suite of highlights but we'll break down the fantastic three set match that saw Monfils walking away victorious.
The first set went to the French tennis star. Monfils would take it 6-3 thanks to plenty of his usual athleticism that we have come to know and love. Take a look at this risky and high-flying shot by Monfils as he runs toward the net.
Wawrinka did not go away quietly though. He roared back to take the second set, winning with ease. He forced a third after defeating Monfils 6-1 in the second. Here is a look at a fantastically angled shot from Wawrinka. It shows just how tuned in he was at this point in the match.
Even as Monfils closed in on the Rotterdam Open title, Wawrinka maintained his poise on the courts. Check out this exchange between the two players. It is a fine example of the back and forth nature of the match. After Wawrinka manages the point, the two also displayed great sportsmanship at the net.
In the end though, it would be Monfils on top. He takes the third set, winning 6-2. All in all, the French tennis star claims his first ATP singles title on the year, going 6-3, 1-6, 6-2 against Wawrinka. Both players had impressive weeks at the Rotterdam Open and should take plenty of positives away from their tournaments and especially the championships match.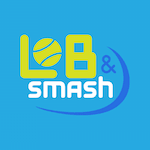 Want your voice heard? Join the Lob And Smash team!
Write for us!
The 2019 Rotterdam Open title did not come easily to Monfils. Here is his championship point and the moment that he claimed victory over Wawrinka. Look for both players to have an impact on the ATP Tour this year. Monfils has been playing great tennis as of late and Wawrinka, if healthy, has proven that he can hang right there with Monfils and others. The ATP Tour currently belongs to world number one Novak Djokovic but these are two players who can give the great Nole a challenge.